Please feel free to view our list of Siamese cat adverts that can be found below. Before you do though please take a look at the advice given under the 'Adopting a Siamese Cat' section further down the page. If you wish to advertise Siamese cats for sale then you can do so here.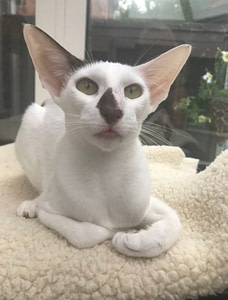 by Ross Davies
Sally is five years old and a chocolate bicolour Oriental and was a wonderful mother but has now retired from breeding and is ready for to put her paws up and become a pampered pet. (ready to leave home October 2023) Sally is healthy, very friendly and intelligent and loves...
Siamese Cat For Sale (Rehomes) / South East / 98 views / Featured
Adopting a Siamese Cat
From time to time cats need to be rehomed to new families, sometimes by breeders and sometimes by cat owners. If you are looking to adopt a Siamese cat then you should consider the following:
Make sure you are adopting your Siamese from a real person and that you collect the cat yourself from their home and do not part with any money until you take the cat home.
Expect to pay a rehoming fee.
The cat should be in good health or you should be made aware of any health issues before you adopt the cat.
Do you have any other pets and are they likely to be happy with a new cat joining the family? Make sure you ask the person who has put the adverting the Siamese cat for sale that you already have pets.
Siamese Cat For Adoption
Siamese cats are a very intelligent and active breed of cat that form strong bonds with their families and enjoy both human and feline companionship. They are extremely vocal, easily trainable and are bursting with personality. A wonderful breed that are very friendly and will become a huge part of your family.
Advertising Siamese Cat For Sale or Adoption
We are happy to advertise Siamese cats for sale as long as they follow the minimum standards listed above.
Advertise your Siamese cat quickly and easily on Siamese Cat Breeder. You will be able to advertise your Siamese cat including all relevant details. You can include up to six kitten pictures. You will also be able to add a link to your breeders website or Facebook page. We advise you include at least the following in your advert.
The date your Siamese cat is ready to leave home.
Your location.
The sex of the cat.
The colour of your Siamese cat.
The age of your cat and health.
We charge £4.95 to advertise your cat for 6 weeks.