Please feel free to view our list of Siamese kitten adverts that can be found below. Before you do please take a look at the 'Buying a Siamese Kitten' recommendations further down the page. If you wish to advertise Siamese kittens for sale then you can do so here.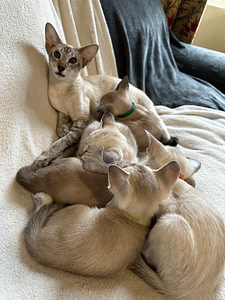 by Diana Parker
Lemur has given birth to 5 kittens. There are only 2 boys left, they are a blue point and blue tabby point. They will come fully vaccinated, vet checked twice, microchipped, goodie bag with sample food and blanket and toys. They will come with 5 weeks free insurance and certificates...
Siamese Kittens For Sale / England / 23 views / Featured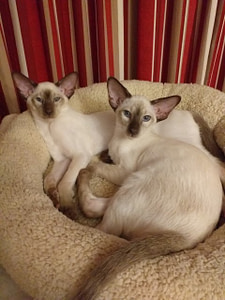 Adorable friendly chocolate point kittens, one boy and one girl available. Very outgoing, playful and affectionate and ready to leave home in November these gorgeous kittens have been reared in my home amongst their extended feline family. They will leave home fully vaccinated and health checked GCCF registered litter trained...
Siamese Kittens For Sale / South East / 77 views
Buying a Siamese Kitten
When buying a Siamese kitten we hope that our list of Siamese kittens for sale will help you with your search. Siamese Cat Breeder recommends that only Siamese kittens that meet the minimum standards should be considered.
Kittens should be registered with a governing body such as G.C.C.F, T.I.C.A or F.B.
Kittens should leave home no earlier than twelve to thirteen weeks old in accordance with the inoculation protocols.
They should be wormed and protected against fleas and parasites.
Pedigree kittens should have at least a three generation pedigree.
Your kitten should be in good health.
Siamese kittens are usually friendly and confident. Choose a kitten that is well socialised and used to human company.
Your Siamese kitten should have completed a FULL course of inoculations at least seven days prior to leaving home.
Your kitten should leave home insured.
Kittens should be litter trained before leaving home.
It is also advisable to visit your Siamese kitten if at all possible before you collect them. If your kitten does not meet the standards above then we strongly consider that you walk away. Do not buy Siamese kittens from breeders who do not do things correctly. There are Siamese kittens for sale from reputable breeders that do things correctly.
About Siamese Kittens
Siamese kittens are a very intelligent and active breed of cat that form strong bonds with their families and enjoy both human and feline companionship. They are extremely vocal, easily trainable and are bursting with personality. A wonderful breed that are very friendly and will become a huge part of your family.
Advertising Siamese Kittens For Sale
We are happy to advertise Siamese kittens and mixed litters of Oriental and Siamese kittens for sale as long as they follow the minimum standards listed above.
Advertise your Siamese kittens quickly and easily on Siamese Cat Breeder. You will be able to advertise your Siamese kittens including all relevant details. You can include up to six kitten pictures. You will also be able to add a link to your breeders website or Facebook page. We advise you include at least the following in your advert.
The date your Siamese kittens are ready to leave home.
Your location.
The sex of the kittens.
The colour of your Siamese kittens.
Have you seen our article on how to advertise kittens online?
We charge £4.95 to advertise your kittens for 6 weeks.