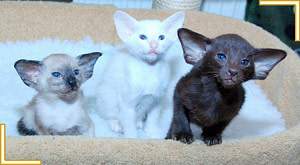 From the time they're about four weeks old, a kitten knows how to find a dry, soft place to "do its business". Digging a hole, eliminating, and covering it up are all behaviours that are part of a cat's natural instincts, and as such, they do not need to be taught. All your kitten needs is a dry, comfortable and clean substitute for dirt. Teach your cat to find the litter box, and be sure to clean it regularly. Training your cat to use the litter can take time, so you'll need to be patient. These are some things to consider while litter training your cat:
The litter box's location is key. While you'll want to put it somewhere out of the way of foot traffic, your kitten will need to feel a level of comfort with its placement. Choose a spot that's dry, warm and with no noisy appliances. Your cat will want to scratch around the edges of the box, so be sure to place a throw rug or paper underneath.
Most cats won't use a litter box that's too close to their water and food, so put it far enough away for your cat to feel comfortable.
When you've picked a location for your litter box, show the kitten where it is by picking them up and setting them down gently. Your cat may not need to use it immediately, but they're likely to dig in it. If they leave the box right away, try again later.
If your cat can't find or use the litter box, relocate it to an area where they'll be sure to see it. When the cat starts looking at or scratching the floor, place them in the box, and praise them when they use it.
Placing the litter box in your basement or on an upper floor means that your cat may have a harder time finding it. This can also be the case if you've moved recently; even older cats may find it difficult. Start by putting the box in the open, and move it bit by bit until it's where you want it to be.
Fill the box with two or three inches of litter (more isn't better, and having less will make your cat feel uncomfortable). The litter should be cleaned daily, as odours coming from an unclean box will make your cat reluctant to use it.
It's up to you as to whether you want to use box liners, covers and scented powders. If you use an additive and your cat stops going into the box, you'll know why.
When you're cleaning a litter box, don't use chemicals like vinegar, bleach, or pine or lemon scented cleaners as they're off-putting to cats.
If your cat is suddenly reluctant to use the litter box, even if you haven't added or removed anything and it's clean, you should take your cat to the veterinarian as soon as you can.
You should now know how to train your kitten to use the litter box. Once he or she gets used to finding and using it, they'll continue to do so for the rest of their lives. The only unfortunate part of litter training is that you still have to clean the box yourself!