Choosing and cleaning your cats food bowls.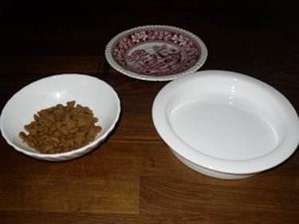 It might seem an unusual subject to be discussing, but your cat's food bowl can make him ill if it is not cleaned properly or often enough! Dirty dishes attract flies; flies can carry bacteria and parasites and these can make your cat ill. Even if you know that flies have no access to your cat's food bowl the build up of old food and saliva is the perfect environment for bacteria to live and for mold to grow. Chances are your cats will eat out of their bowls whatever state they are in – but it is still of utmost importance to keep them as clean as possible.
There are a variety of different types of pet bowls available ranging from small plastic bowls to fancy ceramics and stainless steel dishes. Does it matter which you use? In my experience ceramic dishes are by far the easiest to clean and the most hygienic option. You can pick up saucers and ceramic bowls or shallow dishes extremely cheaply at pottery factory outlets – no need to spend a fortune. I buy loads and keep them in a cupboard so that there are fresh dishes available to use at every meal time!
The dishes can either be popped in the dishwasher with the rest of the pots, or you can do what I do and hand-wash them. Using ordinary washing-up liquid and hot water give each bowl a good scrub with a sponge. Rinse each dish off well and leave to dry on the draining board, ready to be used next meal time.
Water bowls can be washed in the same way, but bear in mind to rinse the bowl really well so that no soapy residue is left over. It is important that water bowls are kept really clean and emptied and washed out daily. Dirty water dishes can become home to the protozoa Giardia, a nasty parasite that will leave your cats with stomach ache, diarrhoea and flatulence! Even more worrying is the possibility that this parasite can transfer to you, although there are conflicting views on whether or not this is possible. All this can be avoided with a simple clean once a day.
Please bear in mind never to use bleach to clean your cat's dishes. If there are any stubborn marks then baking soda is a harmless, yet effective way to clean these off.