Learning how to stop cats scratching furniture and carpets is something every cat owner will probably have to face at some point. Find out why cats scratch furniture and how to control this antisocial behaviour.
Why Do Cats Scratch Furniture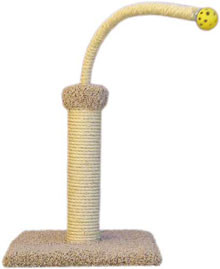 One of the most pressing problems while taking care of а cat at home is their insatiable desire to scratch everything around, especially the furniture. This scratch is not a fad or a game, it's cats' natural need to sharpen and clean their nails in order to remove the unnecessary layers and can't stop doing it no matter how many times the cat has been punished for scratching the coach or any other furniture. But we can save your home and furnishing. Here's how:
How to Prevent Cats Scratching Furniture
The first step is to provide your cat with appropriate objects replacing the furniture. In pet stores you can find huge variety of cat scratchers or cat scratching posts, but you can make a scratcher by yourself using a few materials. For example you can take a piece of wood (board) and wrap it tightly with rope (you can use some types of twine). A good decision also will be the sisal rope, because it is proven that cats prefer it much more than the usual twine. It's better idea not to leave the piece of wood uncovered because the cat could harm its paws or nails while scratching the wood. The handmade scratcher is great choice but only if it's high enough for the cat, because while scratching cats stretch their muscles at the same time and that's why they need a higher scratcher.
Teach Your Cat to Use a Scratching Post
The second, more difficult step is to teach your cat to use only the scratcher.
When you notice that your kitty is actively trying to 'decorate' the furniture, do not punish her immediately because everything could go wrong if she decides that everything's  forbidden for scratching, including the scratching post and as we already mentioned above there is no chance to stop a cat sharpening its nails. If things go this way the effect would be zero. So try to solve the problem carefully – just take the cat and put it nearby the scratcher, the rest should happen spontaneously. But in case your cat's not much thoughtful, put her paws on the scratcher and show her what to do next, she should definitely start using it properly.
Initially, at any use of the cat scratcher or the cat scratching post, give her an encouragement award to understand that this action is good and allowed to be done unlike the sinful furniture scratching. Another brilliant idea for your cat to be more attracted by the scratching post but not the coach is to use a cat spray – effective lure for cats. The spray attracts cats or kittens to places where you want them to be, in this case – the cat scratching post.
On the other hand, if nothing else helps to prevent scratching and the advices above are not applicable for your cat's behavior, you can simply try to head off your cats' furniture attacks by spraying the coach or any other furniture with special keep off spray. The spray, suitable for cats and kittens, is a perfect aid for training cats to stay off furniture, draperies, counters, table tops and any other house furnishing. But after all nothing's guaranteed.
Training a cat to better habits and behavior takes time and patience and it's not much likely that the cat will start immediately using only cat scratchers, but it is likely to start using it in a few weeks or months. Cats are always capricious and rarely obey after punishment. The easiest and most steady way to train the cats is to convince them that what you want to do is for their own good. Please be patient and do not be stingy of "prizes" for your cat after doing the right thing.
If you have any tips on how to stop cats scratching furniture we would love to hear them. Add your comments below.